Royal Wood
with very special guests Good Lovelies

and Fionn
Massey Hall presents
Royal Wood is no stranger to Massey Hall. He has performed on the hallowed stage during his Songwriters' Circle performance for the 2010 JUNO Awards, and sat in the Hall as an audience member and music fan, witnessing legends like Gordon Lightfoot and Lyle Lovett perform. Now, after a period in his life where he lost his father, found love and marriage, and crafted a brilliant, bold new album, Ever After the Farewell (out on April 6), Royal will take centre stage at the iconic venue for his first headlining performance.

This show is the culmination of a storied career that includes multiple JUNO Award nominations, radio hits, collaborations with contemporaries and heroes. Royal Wood is renowned for his intimate and compelling performances whether it be in the wee hours of the morning at the Cameron House where he first began in Toronto or now in front of thousands at festivals and theatres around the world, including Massey Hall for this particularly special evening.





Over the course of their decade-plus career, JUNO Award-winning group the Good Lovelies have covered plenty of stylistic ground, adding tinges of pop, roots, jazz and even hip-hop to their country folk core at various points. Through it all, the unmistakable sound of their intertwined voices has been the sonic anchor, and that remains true as the Good Lovelies now look to push further into the mainstream with their most accessible and pop-influenced output to date, Shapeshifters.


---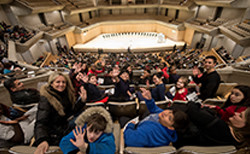 A Part of
Share the Music

VIP Meet & Greet Package (includes front row ticket) - $99.50

When you purchase tickets to the show, you will receive an exclusive, free download of "Photograph," a brand new and unreleased Royal Wood song about Royal's father. The track will be delivered to your inbox shortly after purchase.
Massey Hall