Massey Myths
Perhaps because of the Hall's warm tone, it's often believed the stage itself is the original. In fact, the stage has seen many adjustments over the years: During a 1948 renovation, the main floor of Massey Hall was entirely replaced: the oak flooring had become worn, and was very likely creaky; fire concerns about an all-timber building were also top of mind. A new stage was installed, mounted upon sleepers — wood blocks randomly distributed to reduce resonance that causes feedback — between the stage surface and the new poured-concrete base.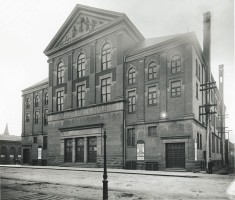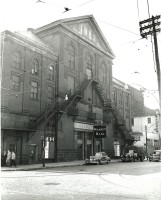 The red and black motif that we tend to associate with Massey Hall was actually introduced during renovations in 1933; the original exterior would have been dour and unadorned, much like a church building of the time. Many Torontonians may feel an attachment to the fire escapes along the Victoria Street side of the building, but they are also not original —they were added in 1911.

During renovations in 1933, six rows of seats were removed to create a smoking lounge (now the upper bar). Rows of seats at the back of the main floor were also removed to allow for the remodelling of the front lobby. The 1948 renovation was large-scale: Some design changes and further painting was imposed to better blend the hall's original Moorish aesthetic with Art Deco elements added in the 1930s, which is when solid wood seating was first replaced. The current seats on the main floor and balcony were introduced in 1948 — the sliding mechanism was typical of movie theatre seating of that time.

It's commonly believed the lobby and the basement bar's Art Deco flourishes, and red, black and gold colour scheme is original. But heritage paint experts have recently examined the hall's interior, and made some interesting discoveries. After carefully scraping away and documenting several paint layers, they've concluded the earliest colour scheme included shades of terracotta, salmon pink, saffron yellow and a shade of blue-green. None of the woodwork was painted. Even the famous Massey ceiling wasn't white: it was was originally salmon pink like the walls, adorned with stencils in terracotta, saffron and green, consistent with the original Moorish design.